The Guardian — An 11th woman came forward to accuse Donald Trump of inappropriate sexual behavior on Saturday.
Jessica Drake, 42, a porn star and sex educator, said in a statement that during a golf tournament in Lake Tahoe "10 years ago", the Republican presidential nominee "grabbed" her and two other unnamed women tightly and kissed them on the lips "without asking permission".
The Trump campaign said: "This story is totally false and ridiculous. The picture is one of thousands taken out of respect for people asking to have their picture taken with Mr Trump. Mr Trump does not know this person, does not remember this person and would have no interest in ever knowing her. This is just another attempt by the Clinton campaign to defame a candidate who just today is number one in three different polls."
Drake made the allegations at a press conference held by the lawyer Gloria Allred, who has previously introduced two Trump accusers to the public.
Eleven women have now accused the Republican presidential nominee of sexual assault or inappropriate sexual behaviour since the leak two weeks ago of a 2005 Access Hollywood recording, in which Trump oasted of attempting to "fuck" a married woman and being able to "grab" women "by the pussy" without their consent.
Trump apologised for the recorded remarks, which he said were "locker-room talk" and did not describe actual behaviour. He has since denied all accusations. His poll numbers have suffered amid the controversy and he currently trails Hillary Clinton by about six points nationally, according to realclearpolitics.com.
On Saturday, while delivering a policy speech in Gettysburg, Pennsylvania, before a short tour of the civil war battlefield, Trump said he would sue each accuser.
"Every woman lied when they came forward to hurt my campaign," he said. "Total fabrication. The events never happened. All of these liars will be sued after the election is over."
In her own statement issued on Saturday, Allred said: "Mr Trump, this morning you spoke at Gettysburg where many brave patriots fought and died. You have dishonoured their sacrifice by threatening wives, mothers and daughters who have made accusations against you."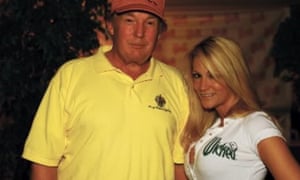 Responding to Allred's role in the naming of the 10th accuser, Karena Virginia, on Thursday, the Trump campaign said in a statement "discredited political operative Gloria Allred, in another coordinated, publicity-seeking attack with the Clinton campaign, will stop at nothing to smear Mr Trump".
The first accuser introduced by Allred was Summer Zervos, a contestant on Trump's reality TV hit, The Apprentice. The ninth accuser, Cathy Heller, told her story to the Guardian last week.
In Gettysburg on Saturday, Trump said "it was probably the [Democratic National Committee] and the Clinton campaign that put forward these liars with these fabricated stories". He added: "We'll find out at a later date through litigation and I look so forward to it."
In her statement, which was sent to the press with a picture of her with Trump, Drake said she was working for Wicked Pictures at the Lake Tahoe golf event and accepted an invitation to walk the course with the billionaire.
"During that time," she said, "he asked me for my phone number, which I gave to him. Later that evening, he invited me to his room. I said I didn't feel right going alone, so two other women came with me. In the penthouse suite, I met Donald again. When we entered the room he grabbed each of us tightly in a hug and kissed each of us on the lips without asking for permission. He was wearing pyjamas."
Drake said a bodyguard was present as Trump questioned her about her work in adult films and asked each woman present "whether we were married or single". Trump married his third wife, Melania Knauss, in 2005.
Drake said that after she left Trump's suite a man called on Trump's behalf to ask her to come back to his room and she declined. Trump then called himself and asked her to have dinner with him and to go to a party. When she declined, she said, "Donald then asked me 'What do you want?' 'How much?'"
Drake said she excused herself, whereafter a man called and offered her $10,000.
"I declined again," she said, "and once more gave as an excuse that I had to return to Los Angeles for work. I was then told that Mr Trump would allow me the use of his private jet to take me home if I accepted his invitation."
She added: "I did relate my experience immediately afterward to some friends. Out of respect to the other parties involved and their families, I will not share their names."
According to the movie website IMDB.com, Jessica Drake is the stage name of Angela Patrice Heaslet.